Email

Share
Email

Share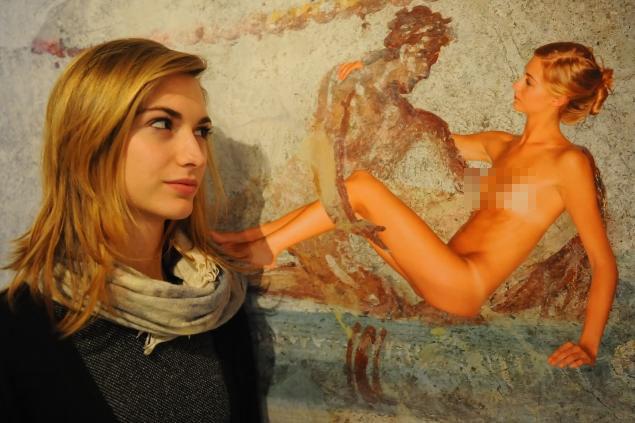 MARIO LAPORTA/AFP/Getty Images
Model Caterina Flor Gumpel stands by a picture of herself superimposed on an erotic fresco at the Casoria's Contemporary Art Museum in Italy.
A "politically incorrect" Italian art exhibition aims to bring ancient Roman frescoes to life by using naked models.
The models pose as nymphs in a series or erotic ancient art, which were originally found in the ancient city of Pompeii.
RELATED: CENTURY 21 CANCELS BANKSY SHOW AFTER WTC DISS
The Roman frescoes depicted such things as a woman having sex with a god, a transsexual and a man having sex with a goat, reports The Local.
The modern-day exhibition is being held near the southern city of Naples.
RELATED: NAKED COLLEGE STUDENTS MIMIC MILEY CYRUS' 'WRECKING BALL' VIDEO
"There is nothing here that you would not see on Facebook or daytime television," said Antonio Manfredi, director of the Contemporary Art Museum (CAM) in Casoria.
"Even today when we talk about erotic works, it is difficult to show them. But as a politically incorrect museum, we thought that it was really interesting."
RELATED: MUSEUM OF BAD ART PUTS 'DISASTERPIECES' ON DISPLAY
Censors originally tried to stop the exhibition, but eventually relented.
"Since I regard myself to be a strong woman, I said this is my picture, I want to make this, and I'm proud of myself," artist Veronika Bayer from Austria told The Local.
"It's very aesthetic. It's not cheap pornography, although you see everything."