BECAUSE HUMAN BEINGS CAN BE EXPECTED TO FACE REALITY
An
interactive complex-installation
,
that contrasts the virtual world with the old reality.
The exhibition will be inaugurated by the live-performance
"SHE WHO DANCES WITH THE DRONE"
,
a dangerous dance of a sensual woman and a technical drone,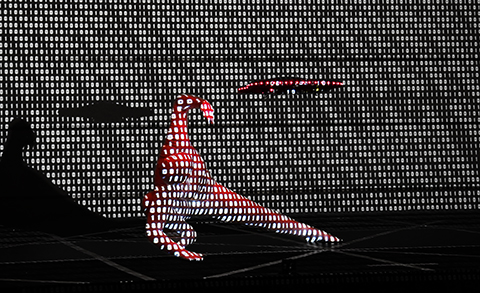 which afterwards reveals to the visitors in an aesthetic way
what comparatively dilettantish nerds are working for the NSA.
The other installations transfer the assumed obvious difference of appearance and reality into a disturbing feeling of surveillance ...
A feeling, that should find its expression in an
outcry of outrage AGAINST total surveillance and FOR the real life of a frog ...
... or not, if you already became an opportunistic part of the system.
Accompanied by an 8h/4d reading of Plato's Cave Allegory as a self-chastisement of the artists,an outcry of urgency!
To assure that all this can take place on save territory every visitor receives a temporary Austrian Passport ... NSA-stamped.
Since already TEAM[:]niel's last project "gabinetto segreto II" raised worldwide attention, visitors can be again sure of some surprising moments ;-)
Now with the competent support of
Edward Snowden, the Technical University Vienna (TU Wien) and some ingenious hackers ...
He who is looking for truth has to see behind things!