insectARThotel with private lake
TEAM[:]niel presents another work from the
art-goes-life
series - specifically for our smallest fellow occupants  
More and more urban space and nice green lawns that are a dead zone to insects take the living space off their native inhabitants. Constant noise, smog, asphalt and concrete has been laid over flowering meadows and degraded the original creatures to a nuisance.
Don't treat the exhausted little ones with TUS but with wellness days at the new insect
ART
HOTEL set amidst a paradisical biotope, whose beauty will bring the town's lifeless concrete and antiseptic lawns also to your mind ...
All accessible, fondly decorated rooms come with a stunning panorama view over our scenic pond. Let your little ones be awakened by the early morning sun and the crickets' concert, seduced to brunch by a colourful flower meadow, whilst great tits, blackbirds, wagtails and doves have their morning bath at the water.
A towpath leads to stone terraces, where grasses present their diverse outfits, next to the zen garden with its centennial vine stock, surrounded by a red bamboo grove. Under old fruit and nut trees the path leads on over soft hills, past a small steppe, over the sunflower hill towards a burbling waterfall. Here a first break may be made.
Relaxing, nibbling of the little kumquat tree and watching sapphire blue dragonflies during their loveplay makes your clock tick more slowly. Simply feeling at ease and enjoying with all senses – this is pure nature!
In contrast to that one strolls across an area of lifeless grass, past the old wooden door, where small holes betray the new subtenants. Climbing the water stairs the way leads up to the herb garden with its exotic fragrances and then back to the hot whirlpool. Best way to relax there is with a glass of champagne, enjoying the panoramic view over the waterscape!
Take a bath in the refreshing cool pond afterwards, until in the evening a classy dinner is served at the reedy waterfront, accompanied by our on-site frog quintett. When the day finally draws to a close the moon rises slowly, mirrored in the waters smooth as glass. Can going to bed be even more pleasant?
And maybe your fosterlings enjoy their stay so much that guests turn into friends who do not want to leave … which in turn will be your opportunity to visit them on day trips – of course with the possibility to spend the night comfortably.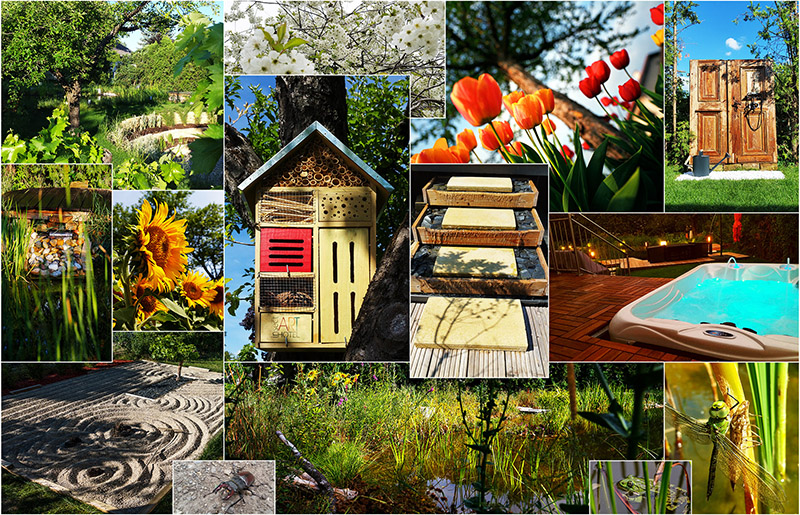 Opening at the 30th July 2017 at 6pm.
limited attendence, admission of homo sapiens only accompnied by an insect
admission in order of application via contact@TEAMniel.com